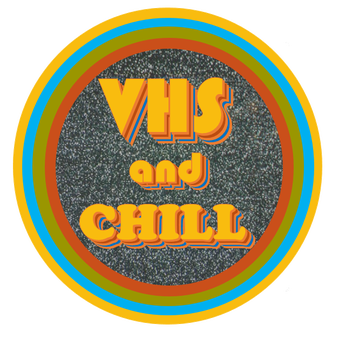 ---
UPCOMING EVENT: 'TRUE ROMANCE' 25th ANNIVERSARY VHS SCREENING @ RODEO CINEMA
---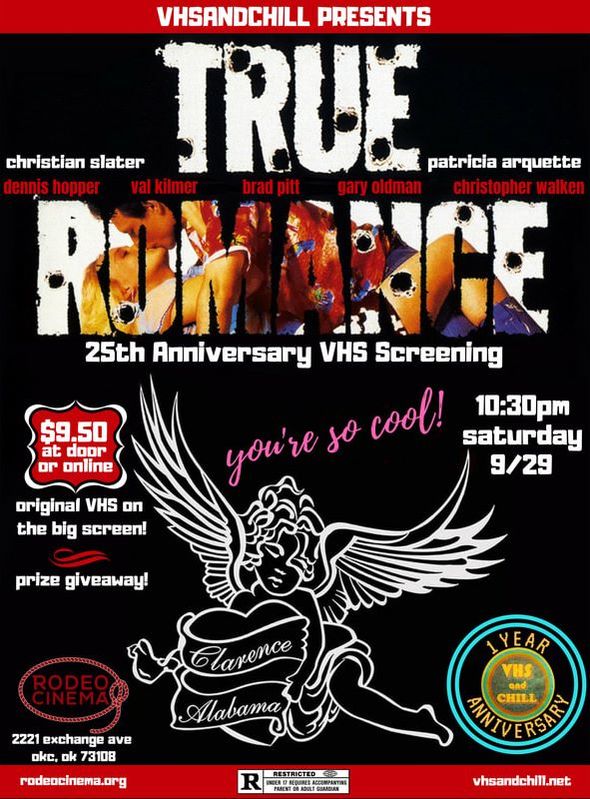 ---
When: Saturday, September 29th at 10:30pm
Where: Rodeo Cinema, 2221 Exchange Ave, Oklahoma City, OK 73108
Price: $9.50
Can you believe VHSANDCHILL has been bringing retro movie fun to OKC for an entire year now?! With every film event, we strive to bring back those memories of popping in a tape and watching your favorite flicks with your friends like back in the day!
To celebrate its 25the Anniversary, we're screening the 1995 classic 'True Romance'!! Written by Quentin Tarantino and directed by Tony Scott, a lonely pop culture geek (Christian Slater) marries a call girl (Patricia Arquette), steals cocaine from her pimp, and tries to sell it in Hollywood. Meanwhile, the owners of the cocaine - the Mob - track them down in an attempt to reclaim it. This film also has one hell of a cast with Brad Pitt, Dennis Hopper, Christopher Walken, Gary Oldman, Samuel L Jackson and more!
Attendees will receive a raffle ticket for fun prizes including a True Romance prize-pack.
This screening kicks off a new monthly series at the Rodeo Cinema where we will be bringing you more VHS hits up on the BIG SCREEN!

Tickets can be purchased HERE
---
UPCOMING EVENT: VHSANDCHILL PRESENTS - FANTASY REWIND @ THE PARAMOUNT SCREENING ROOM
---
---
When: Wednesday, October 3rd at 8:00pm
Where: The Paramount Room, 701 W Sheridan Ave, Oklahoma City, OK 73102
Price: FREE SHOW
Our second show in a brand new VHS series out at The Paramount Screening Room on Film Row OKC! FANTASY REWIND will be us sharing classic science fiction TV shows, animation, and fantasy VHS tapes! We're going hard into retro sci-fi with these shows and can't wait to bring you all along for the ride!

The Paramount Screening Room has onsite concessions and a bar for adult beverages. These shows will be ALL-AGES!! So feel free to bring the kiddos!

These screenings will be every first Wednesday of the month! Show starts at 8:00pm!

SHOW STARTS AT 8:00PM/!! FREE SHOW!! / ALL-AGES!
RSVP​
---
In early 2016 it all started with the dream of having an old school TV wall, the kind we all saw in our favorite 80's and 90's flicks. After a few trips to some local thrifts stores, I had more than enough old TVs and VCRs. It was about this time I came into a collection of a few thousand VHS tapes and not long after VHSANDCHILL nights were born. Every month or so we started showings of classic 80's and 90's movies. As these showings became more popular we began doing some theme showings and marathons. We enjoy watching these showings bring in people from every age group and all walks of life. VHS is dead. Long live VHS!
---
---
© VHSANDCHILL, LLC 2017