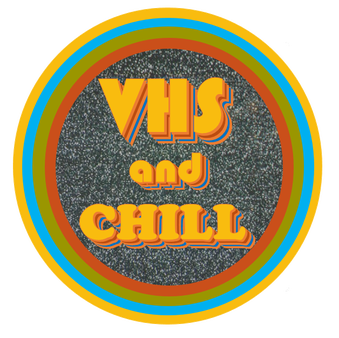 ---
​
​10-02-19 -
VHSANDCHILL PRESENTS - 'BLOCKBUSTED VIDEO' @ THE PARAMOUNT ROOM
---
---
When: Wednesday October 2nd at 7:00pm
Where: The Paramount Room, 701 W Sheridan Ave
Price: FREE!!!!
Our 2019 VHS series out at The Paramount Room on Film Row is steamrolling right along! Welcome to BLOCKBUSTED VIDEO!
This film was chosen by the audience of last months Blockbusted Video screening, so if you were there, you totally know what you're in for! I remember actually seeing this in the theaters when it came out. I was a total FIEND for the first film and had NO idea what I was getting into with the second. I remember the scariest part of this movie for me was that I was the ONLY person in the entire theater and my brother snuck up behind me (he worked at that theater) and scared the shit out of me! Good times!
With our friend Keeva Danielle, we're reviving the old BLOCKBUSTED VIDEO show from 2017 but with a twist! We're going to be riffing on this movie together. So talking, joking, singing, and pretty much everything else is, not only, allowed but ABSOLUTELY encouraged!
These screenings are always FREE and we invite you all out to come hang and have a good time riffing on this hilariously bad film!
The Paramount Screening Room has onsite concessions and a bar for adult beverages.
These screenings will be every first Wednesday of the month! Show starts at 7:00pm!
SHOW STARTS AT 7:00PM/!! FREE SHOW!!

RSVP
---
​
​10-21-19 - VHSANDCHILL PRESENTS - 'THE LOST BOYS' @ RODEO CINEMA
---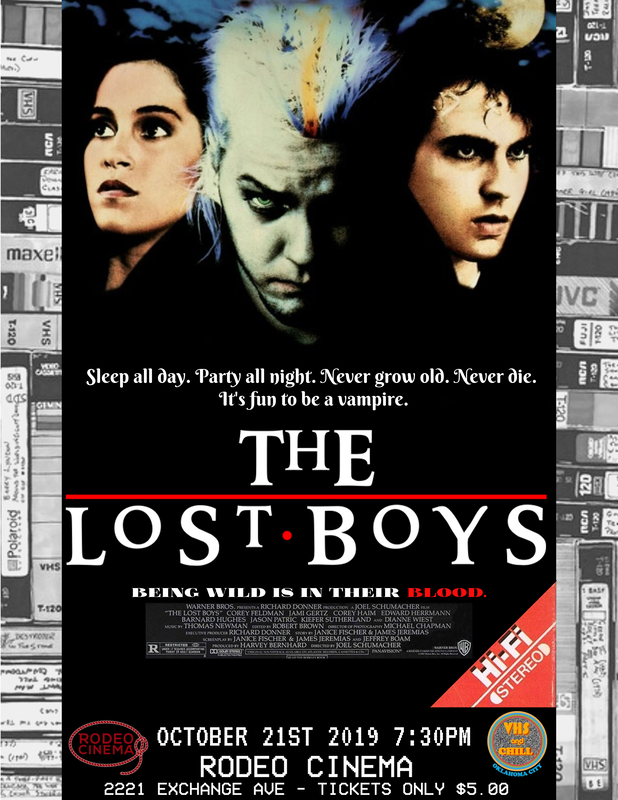 ---
When: Monday October 21st at 7:30pm
Where: Rodeo Cinema, 2221 Exchange Ave, Oklahoma City, OK
Price: ONLY $5.00!
Teenage brothers Michael (Jason Patric) and Sam (Corey Haim) move with their mother (Dianne Wiest) to a small town in northern California. While the younger Sam meets a pair of kindred spirits in geeky comic-book nerds Edward (Corey Feldman) and Alan (Jamison Newlander), the angst-ridden Michael soon falls for Star (Jami Gertz) -- who turns out to be in thrall to David (Kiefer Sutherland), leader of a local gang of vampires. Sam and his new friends must save Michael and Star from the undead!
First 20 people in get a one of kind 'The Lost Boys' event button!
​
This Screening will be Monday, October 21st at 7:30pm @ Rodeo Cinema!

RSVP
---
10
-29-19 - VHSANDCHILL PRESENTS - 'DOUBLE FEATURE: KUNG FURY & COMMANDO NINJA' @ THE PARAMOUNT ROOM
---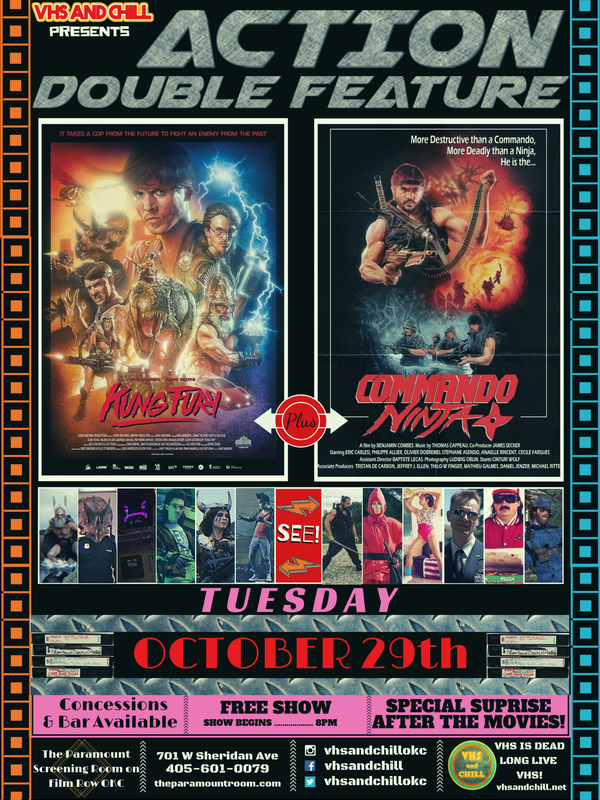 ---
When: Tuesday October 29th at 8:00pm
Where: The Paramount Room, 701 W Sheridan Ave
Price: FREE!!!!
This is a special screening I've been wanting to do for a while!
We're going to be screening two Kickstarted VHS Films BACK TO BACK! These action flicks are both about 30 minutes each and we've even got a special surprise after the screening!
'KUNG FURY' is a 2015 English-language Swedish martial arts action comedy short film written and directed by David Sandberg. It pays homage to 1980s martial arts and police action films. The film stars Sandberg in the title role, Jorma Taccone, Leopold Nilsson, and a cameo appearance by David Hasselhoff. The big budget Hollywood sequel is coming out soon starring none other than ARNOLD SCHWARZENEGGER and MICHAEL FASSBENDER!
'COMMANDO NINJA' is a 2018 English-language French martial arts action comedy film written and directed by Benjamin Combes. It pays homage to 1980s action films such as Commando, The Terminator, Rambo: First Blood Part II, Predator, and American Ninja
This double-feature presentation is FREE and open to the public, though both films would be R RATED and are not recommended for children.
The Paramount Screening Room has onsite concessions and a bar for adult beverages.
SHOW STARTS AT 8:00PM/!! FREE SHOW!!

​RSVP
---
---
In early 2016 it all started with the dream of having an old school TV wall, the kind we all saw in our favorite 80's and 90's flicks. After a few trips to some local thrifts stores, I had more than enough old TVs and VCRs. It was about this time I came into a collection of a few thousand VHS tapes and not long after VHSANDCHILL nights were born. Every month or so we started showings of classic 80's and 90's movies. As these showings became more popular we began doing some theme showings and marathons. We enjoy watching these showings bring in people from every age group and all walks of life. VHS is dead. Long live VHS!
---
---
© VHSANDCHILL, LLC 2017