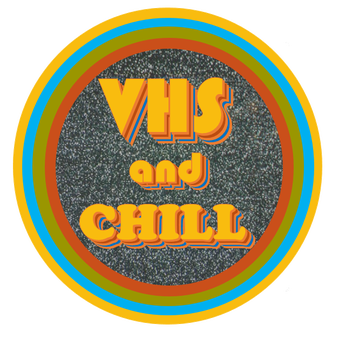 ---
UPCOMING EVENT: 3-22-19 - VHSANDCHILL PRESENTS - 'THE CROW' @ RODEO CINEMA
---
---
When: Friday March 22nd at 10:00pm
Where: Rodeo Cinema, 2221 Exchange Ave, Oklahoma City, OK 73108
Price: ONLY $5.00! TICKETS ON SALE NOW!
The night before his wedding, musician Eric Draven (Brandon Lee) and his fiancée are brutally murdered by members of a violent inner-city gang. On the anniversary of their death, Eric rises from the grave and assumes the gothic mantle of the Crow, a supernatural avenger!
For this screening we want you to dress in your absolute best CROW gear!
​
This Screening will be Friday, March 22nd at 10pm @ Rodeo Cinema!

RSVP
---
UPCOMING EVENT: 3-29-19 - VHSANDCHILL PRESENTS - 'BARGAIN BIN' @ CIRCLE CINEMA in TULSA!
---
---
When: Friday March 29th at 9:00pm
Where: Circle Cinema, 10 S. LEWS AVE. TULSA, OKLAHOMA 74104
Price: $10.00 (non-members) $8 (members) TICKETS ON SALE NOW!
VHSANDCHILL is finally coming to Tulsa's very own CIRCLE CINEMA! This is something that I've been excited about for quite a while!
We'll be bringing a Bargain Bin of some very choice VHS tapes that the audience will vote on and get to play.
Our mission is to bring back that classic feel of hanging out with your friends and finding the wildest and craziest stuff to watch on VHS.
RSVP
---
4-03-19 - VHSANDCHILL PRESENTS - BLOCKBUSTED VIDEO @ THE PARAMOUNT ROOM
---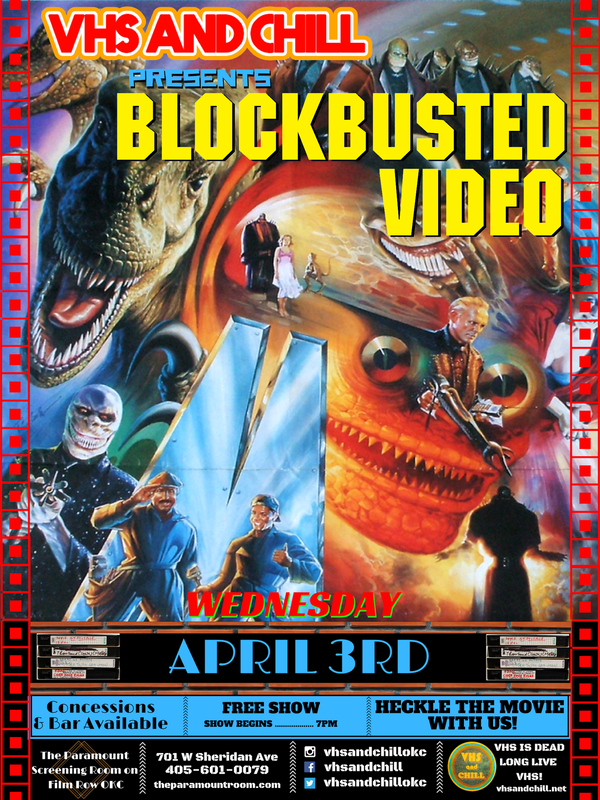 ---
​
When: Wednesday April 3rd at 7:00pm
Where: The Paramount Room, 701 W Sheridan Ave, Oklahoma City, OK 73102
Price: FREE!!!!
We are continuing our 2019 VHS series out at The Paramount Screening Room on Film Row! Welcome to BLOCKBUSTED VIDEO!
This film is an absolute classic and practically a MUST WATCH for any lover of film! That could be because behind-the-scenes this movie was a total train wreck. I actually think quite a bit of that making-of madness made it to the big screen in a BIG way and makes for one of the most memorable film missteps in history.
All that being said, this flick was a huge part of my childhood and I remember watching it over and over again! I had the toys, the soundtrack, the magazines, and of course the movie itself!
So strap in, grab your bob-ombs, and get your de-evolution guns ready!
THIS AINT NO VIDEO GAME!
With our friend Keeva Danielle, we're reviving the old BLOCKBUSTED VIDEO show from 2017 but with a twist! We're going to be riffing on this movie together. So talking, joking, singing, and pretty much everything else is, not only, allowed but ABSOLUTELY encouraged!
These screenings are always FREE and we invite you all out to come hang and have a good time riffing on this hilariously bad film!
The Paramount Screening Room has onsite concessions and a bar for adult beverages.
These screenings will be every first Wednesday of the month!
SHOW STARTS AT 7:00PM/!! FREE SHOW!!

​RSVP
---
---
In early 2016 it all started with the dream of having an old school TV wall, the kind we all saw in our favorite 80's and 90's flicks. After a few trips to some local thrifts stores, I had more than enough old TVs and VCRs. It was about this time I came into a collection of a few thousand VHS tapes and not long after VHSANDCHILL nights were born. Every month or so we started showings of classic 80's and 90's movies. As these showings became more popular we began doing some theme showings and marathons. We enjoy watching these showings bring in people from every age group and all walks of life. VHS is dead. Long live VHS!
---
---
© VHSANDCHILL, LLC 2017