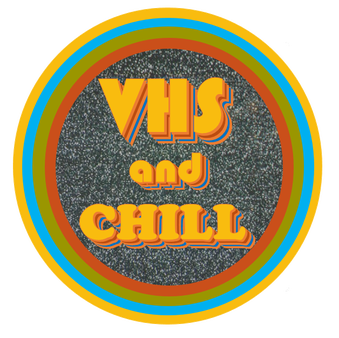 ---
6-11-23 - BLOCKBUSTED VIDEO SCREENING @ RAD BAR OKC
---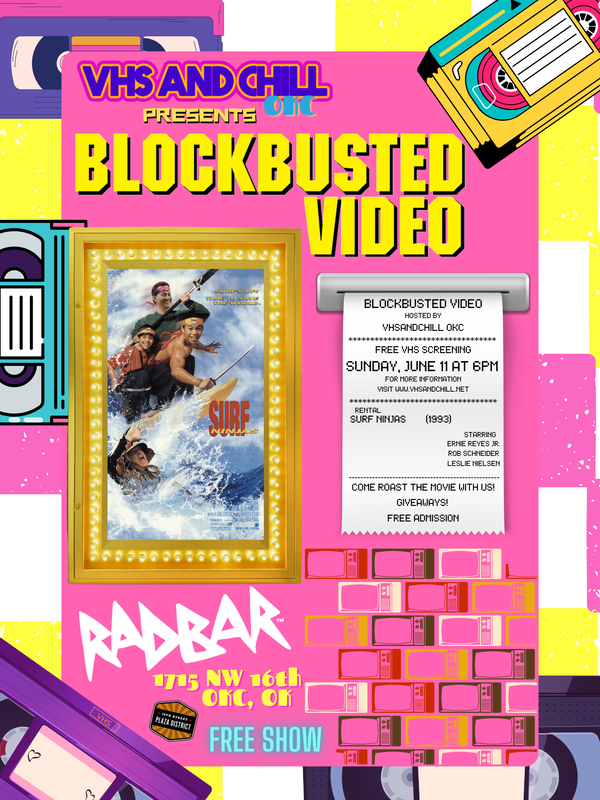 ---
When: Sunday June 11th at 6:00pm
Where: Rad Bar, 1715 NW 16th Street
Price: FREE SHOW!
BLOCKBUSTED VIDEO is back!! Join VHSANDCHILL OKC, in collaboration with RAD BAR, as they present a film screening on actual VHS tape!
This 1993 comedy treasure has been unearthed in a hidden vault beneath the Plaza District and will be presented to you to behold! We're going to be riffing on this movie together. So talking, joking, and singing during the movie is not only allowed, but ABSOLUTELY encouraged!
These screenings are always FREE and we invite you to come out, hang, and have a good time riffing on this hilariously bad movie!
We're also going to be having some cool GIVEAWAYS!
SHOW STARTS AT 6:00PM
ABOUT THE FILM: Brothers Johnny, an adolescent surf talent, and Adam, a preadolescent video-game addict, grow up care-free in California as adopted sons of Marines veteran Mac, inseparable friends of wacky local lout Iggy. Colonel Chi's military reign of terror culminates in their tiny birth-land, island state Patu San, off the Viet Nam coast. Former royal guards officer Zatch comes to summon the brothers to return and restore the pacific monarchy, because they are the sons of the murdered king, whom Mac took in exile for safety. They are joined on the adventurous journey by a bored Californian police detective whose attention was drawn by the ninja team that failed, thanks to Zatch, to murder the brothers in Mac's home. (1993)
​
RSVP
---
---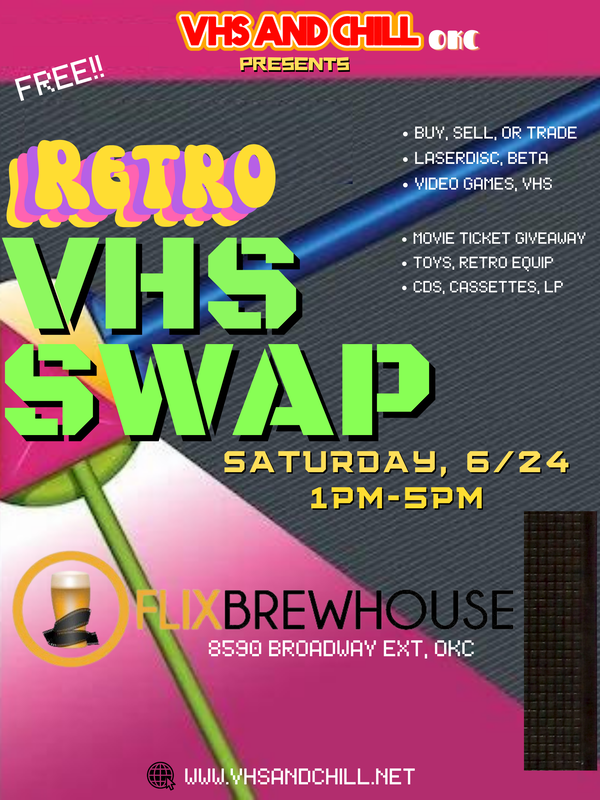 ---
When: Saturday, June 24th 1pm-5pm
Where: FLIX BREWHOUSE, 8590 Broadway Ext, OKC
Price: FREE
We're back at it again with a brand new Retro Tape Swap event! The Oklahoma City Tape Swap will be filled with Vendors, Food, Beer, and Movies!
Come buy, sell, and trade VHS, Beta, Laserdisc, Video Games, everything and anything!
We'll have 2 FREE MOVIE TICKETS to give away and we'll be throwing up some classic VHS masterpieces! So grab some delicious Flix Brewhouse beer and join us!
Tell your friends! Share this event to anybody you think might be interested!
SEE YOU ALL THERE!
Hosted by VHSandCHILL OKC
Sponsors/Vendors
VHSandCHILL OKC
Christophe's Crypt
& MORE!
(We have vendor tables available at no charge, message us for details)
RSVP
---
---
In early 2016 it all started with the dream of having an old school TV wall, the kind we all saw in our favorite 80's and 90's flicks. After a few trips to some local thrifts stores, I had more than enough old TVs and VCRs. It was about this time I came into a collection of a few thousand VHS tapes and not long after VHSANDCHILL nights were born. Every month or so we started showings of classic 80's and 90's movies. As these showings became more popular we began doing some theme showings and marathons. We enjoy watching these showings bring in people from every age group and all walks of life. VHS is dead. Long live VHS!
---
---
© VHSANDCHILL, LLC 2017