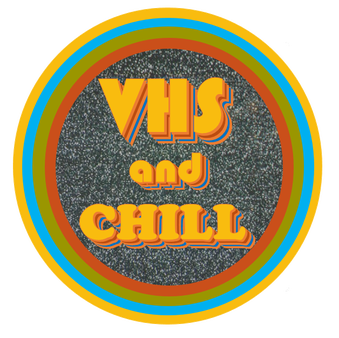 ---
8-28-21 - VHSANDCHILL PRESENTS: 'BLOODFIST VI: GROUND ZERO' @ RODEO CINEMA ON FILM ROW!
---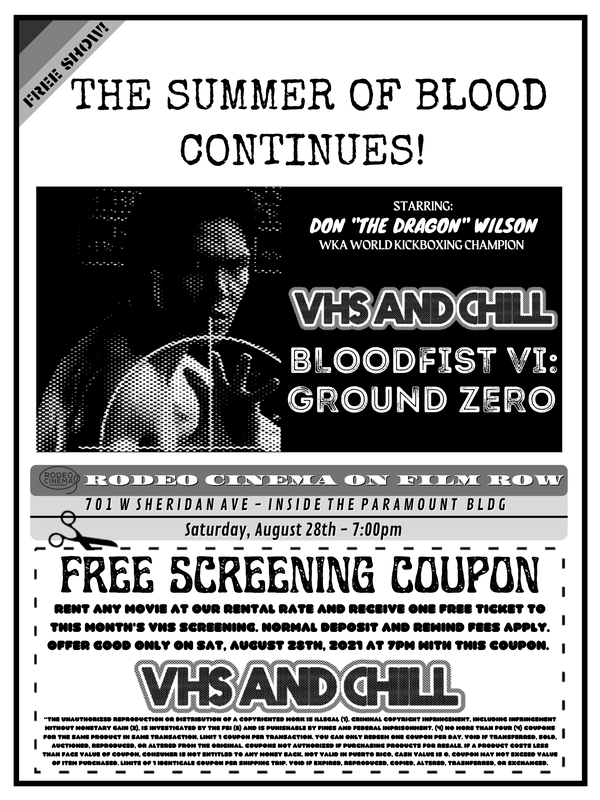 ---
When: Saturday August 28th at 7:00pm
Where: Rodeo Cinema on Film Row, 701 W Sheridan Ave
Price: FREE SHOW!
Since 2016, VHSANDCHILL has been Oklahoma City's #1 place for all things VHS! 80's, Camp, Horror, Action, Sci-Fi, Cartoons! True Garage Cinema!
VHSANDCHILL is back at the Paramount Building in the newly renovated screening room - RODEO CINEMA ON FILM ROW!
We're brining you the same wild VHS screenings that we always have, now with a little more KICK! The SUMMER OF BLOOD CONTINUES with BLOODFIST VI: GROUND ZERO! (Somebody stop me. Please. I can't stop with these movies. We keep having more and more fun at each screening.)
We're going to be riffing on this movie together. So talking, joking, singing, and pretty much everything else is, not only, allowed but ABSOLUTELY encouraged!
These screenings are always FREE and we invite you all out to come hang and have a good time riffing on this hilariously bad film!
SHOW STARTS AT 7:00PM / FREE SHOW!
ABOUT THE FILM: Air Force courier Nick Corrigan (Don 'THE DRAGON' Wilson) is sent to deliver a message to a nuclear missile base in a remote corner of the Midwest. Unbeknownst to him, however, a gang of terrorists have taken over the base in the hopes of launching the missiles at all of the nation's largest cities. In a panic, they lock Nick in the base, thinking to keep him from interfering with their plans. Little do they know, however, that Sgt. Corrigan is a former Special Forces soldier who is more than capable of shutting them down single-handedly. (1995)
RSVP
---
---
---
In early 2016 it all started with the dream of having an old school TV wall, the kind we all saw in our favorite 80's and 90's flicks. After a few trips to some local thrifts stores, I had more than enough old TVs and VCRs. It was about this time I came into a collection of a few thousand VHS tapes and not long after VHSANDCHILL nights were born. Every month or so we started showings of classic 80's and 90's movies. As these showings became more popular we began doing some theme showings and marathons. We enjoy watching these showings bring in people from every age group and all walks of life. VHS is dead. Long live VHS!
---
---
© VHSANDCHILL, LLC 2017