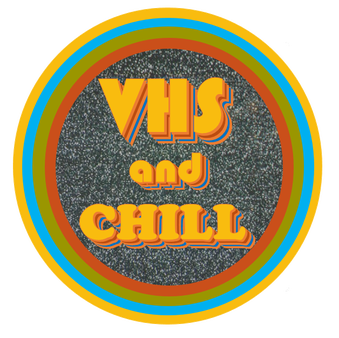 ---
2
-12-20 - VHSANDCHILL PRESENTS - 'BLOCKBUSTED VIDEO' @ THE PARAMOUNT ROOM
---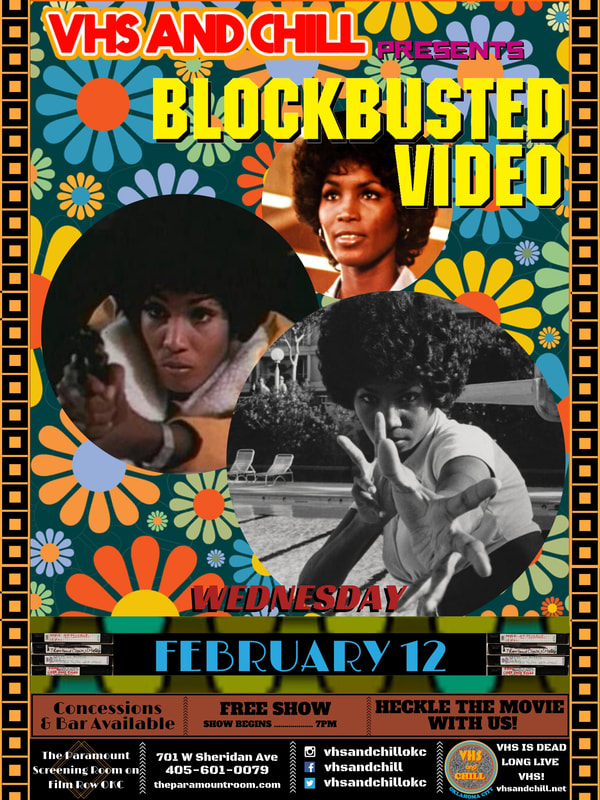 ---
When: Wednesday February 12th at 7:00pm
Where: The Paramount Room, 701 W Sheridan Ave
Price: FREE!!!!
Now that it's 2020, we're turning up our VHS series out at The Paramount Room on Film Row UP TO 11! Welcome to BLOCKBUSTED VIDEO!
Again, this month's film was selected by the audience at our last screening. A 70's throwback for sure, but one that is guaranteed the laughs!
With our friend Keeva Danielle, we're reviving the old BLOCKBUSTED VIDEO show from 2017 but with a twist! We're going to be riffing on this movie together. So talking, joking, singing, and pretty much everything else is, not only, allowed but ABSOLUTELY encouraged!
These screenings are always FREE and we invite you all out to come hang a
nd have a good time riffing on this hilariously bad film!

The Paramount Screening Room has onsite concessions and a bar for adult beverages.

This screening will be held upstairs in the ballroom! Show starts at 7:00pm!

SHOW STARTS AT 7:00PM / FREE SHOW!!

​RSVP
---
2
-20-20 -
VHSANDCHILL PRESENTS - 'VHS ROULETTE' @ LOST HIGHWAY BAR
---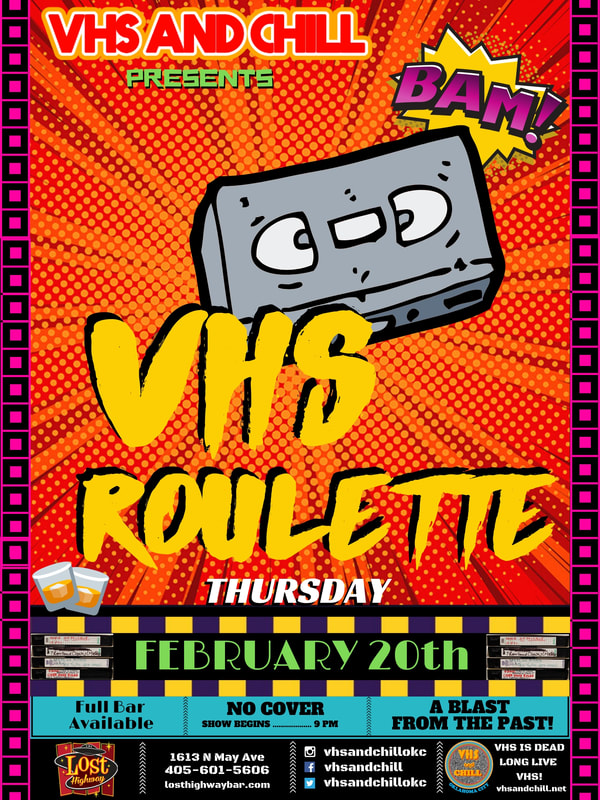 ---
When: Thursday February 20th at 9:00pm
Where: Lost Highway Bar, 1613 N May Ave
Price: FREE!!!!
It's 2020 now, the future, and we here at VHSANDCHILL have been cooking up something special for all you tapeheads here in OKC! These shows will be unlike anything we've done before and we are beyond hyped!
Join us at LOST HIGHWAY bar for VHS ROULETTE! One lucky audience member will spin the wheel and the only rule is: Whatever tape is selected WE HAVE TO WATCH. NO MATTER WHAT IT IS. It could be cartoons, family vacation footage, cinema classics, or things far worse!
The Lost Highway is game for this and we feel like this will be a total riot! So come out and spin the wheel! See where destiny takes us!
These screenings are always FREE and there's no cover charge at the bar.
SHOW STARTS AT 9:00PM / FREE SHOW!!

RSVP
---
---
---
In early 2016 it all started with the dream of having an old school TV wall, the kind we all saw in our favorite 80's and 90's flicks. After a few trips to some local thrifts stores, I had more than enough old TVs and VCRs. It was about this time I came into a collection of a few thousand VHS tapes and not long after VHSANDCHILL nights were born. Every month or so we started showings of classic 80's and 90's movies. As these showings became more popular we began doing some theme showings and marathons. We enjoy watching these showings bring in people from every age group and all walks of life. VHS is dead. Long live VHS!
---
---
© VHSANDCHILL, LLC 2017