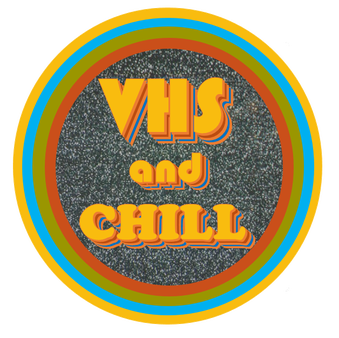 ---
10
-29-19 - VHSANDCHILL PRESENTS - 'DOUBLE FEATURE: KUNG FURY & COMMANDO NINJA' @ THE PARAMOUNT ROOM
---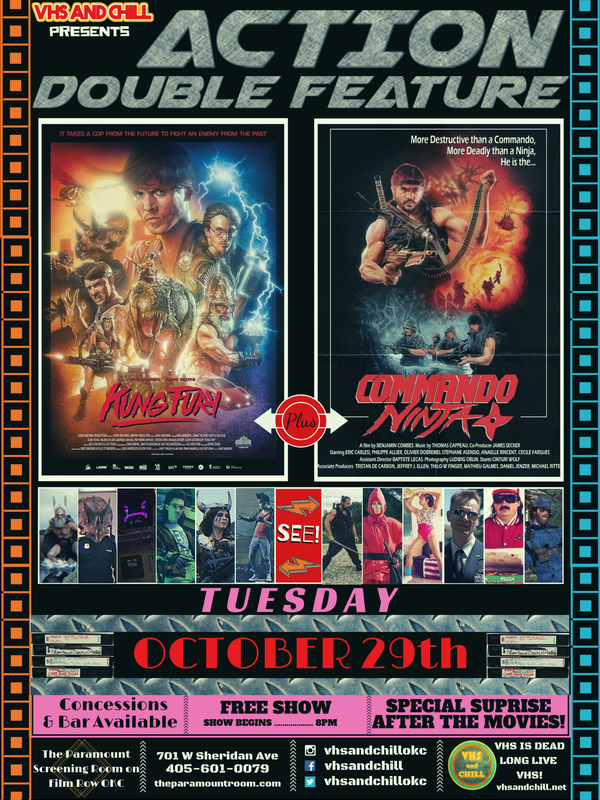 ---
When: Tuesday October 29th at 8:00pm
Where: The Paramount Room, 701 W Sheridan Ave
Price: FREE!!!!
This is a special screening I've been wanting to do for a while!
We're going to be screening two Kickstarted VHS Films BACK TO BACK! These action flicks are both about 30 minutes each and we've even got a special surprise after the screening!
'KUNG FURY' is a 2015 English-language Swedish martial arts action comedy short film written and directed by David Sandberg. It pays homage to 1980s martial arts and police action films. The film stars Sandberg in the title role, Jorma Taccone, Leopold Nilsson, and a cameo appearance by David Hasselhoff. The big budget Hollywood sequel is coming out soon starring none other than ARNOLD SCHWARZENEGGER and MICHAEL FASSBENDER!
'COMMANDO NINJA' is a 2018 English-language French martial arts action comedy film written and directed by Benjamin Combes. It pays homage to 1980s action films such as Commando, The Terminator, Rambo: First Blood Part II, Predator, and American Ninja
This double-feature presentation is FREE and open to the public, though both films would be R RATED and are not recommended for children.
The Paramount Screening Room has onsite concessions and a bar for adult beverages.
SHOW STARTS AT 8:00PM/!! FREE SHOW!!

​RSVP
---
11-02-19 -
VHSANDCHILL PRESENTS - OKLAHOMA ARTCADE SCREENING @ THE PARAMOUNT ROOM
---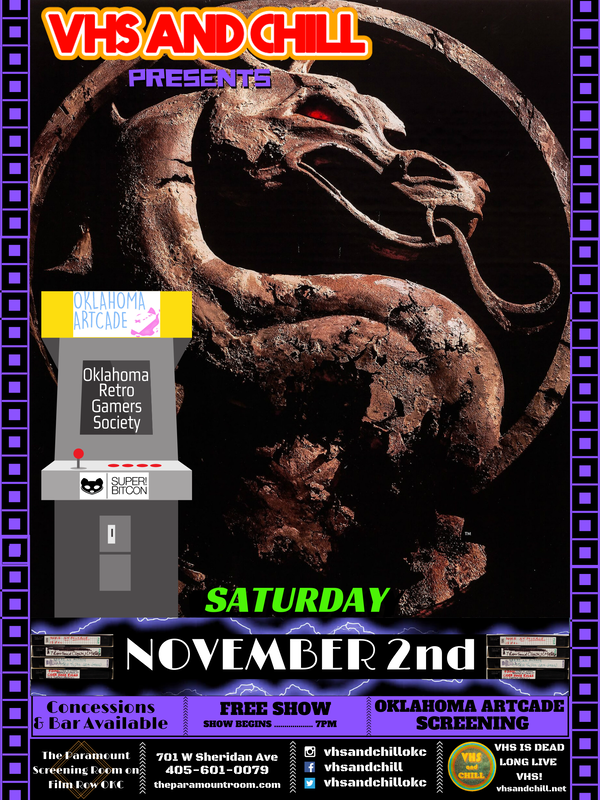 ---
When: Saturday November 2nd at 7:00pm
Where: The Paramount Room, 701 W Sheridan Ave
Price: FREE!!!!
This year we've teamed up for special film screening as part of the Oklahoma Artcade 2019!
Oklahoma Artcade is best defined as an altruistic art show that stands on the divide of fine art and video game pop culture. With this marriage of media, Oklahoma Artcade brings out nerd and art aficionado alike; as it has something for everyone of all interests and ages.
Not only does Oklahoma Artcade showcase fine art masterpieces including, but not limited to paintings, sculptures, etchings, sketches, mobiles, and papercraft, but there are also one-of-a-kind custom-made games, arduino art, among other various types of technological blends that garner an aesthetic appeal.
The secret of Artcade? Nothing is mass produced. Each item is a labor of love.
The theme of this year's Artcade is "The Women of Gaming"! We will have a special section dedicated to all the baddest babes and non-men in gaming history! Show your passion! Provide your support! Our donations this year will go toward fundraising for our local Oklahoma City YWCA chapter.
On top of what's to see, on Friday night, our infamous Trivia Night with Jacob J-Train Galleciez returns! Grab some friends, kick back a few drinks, put on your thinking caps, and go for the gold!
As for Saturday evening, Oklahoma Retro Gamers Society is partnering with VHS and CHILL to provide a special screening of a retro-themed video game movie to run alongside the event. Take a trip down memory lane and absorb one of your favorite B-rated gaming movie MST3K-style!
Artcade is BACK and it's BIGGER and BETTER than ever!!!
Friday, November 1st, 2019
6:00pm to 11:00pm
Saturday, November 2nd, 2019
11:00am to 11:00pm
------------------------------------------------------
Don't forget! The show is FREE and it's for ALL AGES. BUT! You must be 21 years of age or older with a valid ID to enter the bar and open alcoholic beverages may be present on the show room floor.
------------------------------------------------------
Visit
https://oklahomaartcade.com/
RSVP
---
​
​11-20-19 -
VHSANDCHILL PRESENTS - 'BLOCKBUSTED VIDEO' @ THE PARAMOUNT ROOM
---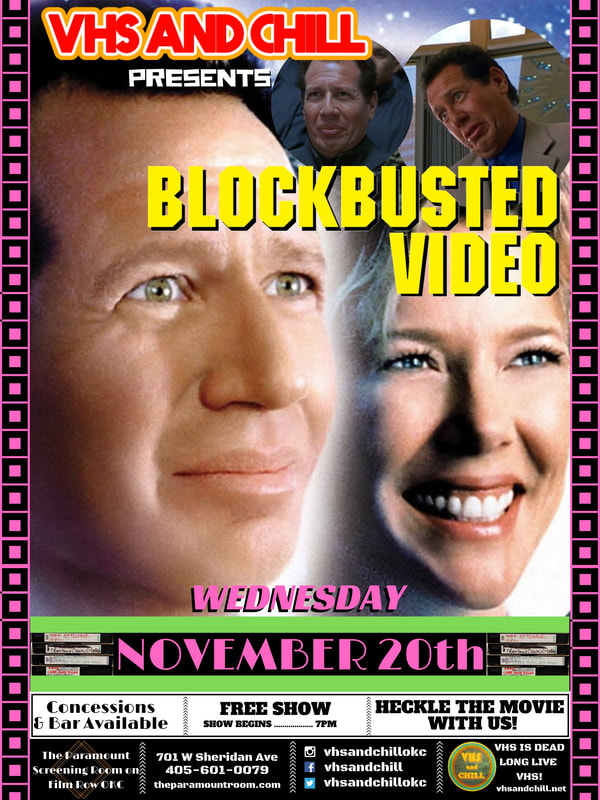 ---
When: Wednesday November 20th at 7:00pm
Where: The Paramount Room, 701 W Sheridan Ave
Price: FREE!!!!
Our 2019 VHS series out at The Paramount Room on Film Row is steamrolling right along! Welcome to BLOCKBUSTED VIDEO!
For some masochistic reason, this film was chosen by the audience of last months Blockbusted Video screening... BTW I know think the Curse of the Blair Witch is true! Especially since this is the movie we're cursed to watch this month!
I remember seeing this movie exactly once. I couldn't finish it in one sitting and it took several days to actually get through this movie. Ya know what though, maybe it's aged well like a fine wine...or something, hopefully. Anyway, buckle up as one of the most clueless aliens to ever land on earth tries to find a 'mate' to save his species!
With our friend Keeva Danielle, we're reviving the old BLOCKBUSTED VIDEO show from 2017 but with a twist! We're going to be riffing on this movie together. So talking, joking, singing, and pretty much everything else is, not only, allowed but ABSOLUTELY encouraged!
These screenings are always FREE and we invite you all out to come hang and have a good time riffing on this hilariously bad film!
The Paramount Screening Room has onsite concessions and a bar for adult beverages.
This screening will be held upstairs in the ballroom this time! Show starts at 7:00pm!
SHOW STARTS AT 7:00PM/!! FREE SHOW!!

​RSVP
---
---
In early 2016 it all started with the dream of having an old school TV wall, the kind we all saw in our favorite 80's and 90's flicks. After a few trips to some local thrifts stores, I had more than enough old TVs and VCRs. It was about this time I came into a collection of a few thousand VHS tapes and not long after VHSANDCHILL nights were born. Every month or so we started showings of classic 80's and 90's movies. As these showings became more popular we began doing some theme showings and marathons. We enjoy watching these showings bring in people from every age group and all walks of life. VHS is dead. Long live VHS!
---
---
© VHSANDCHILL, LLC 2017